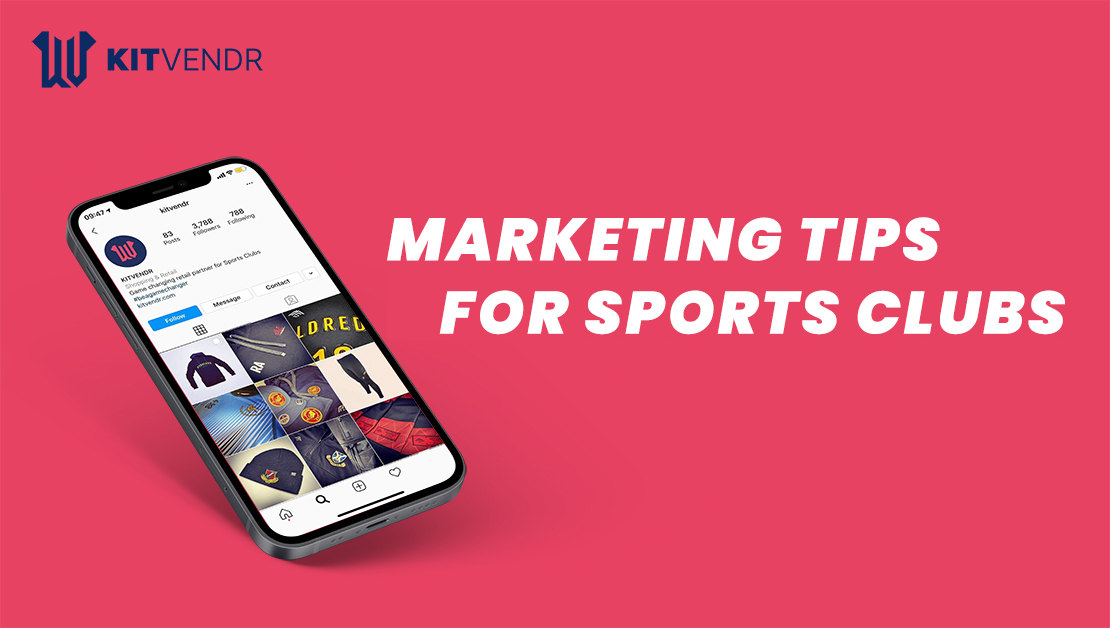 A common misconception about LinkedIn is that it is only for job hunters and growing a professional network. In fact, LinkedIn offers a great opportunity for sports clubs to generate new business connections, nurture relationships, and tell your club's story. In the sports community – LinkedIn can be used to post a variety of announcements and updates to all those you are connected with to develop commercial opportunities. We have gathered some examples of LinkedIn being used effectively by clubs to demonstrate how easy and productive using LinkedIn to grow your club's network can be. See if you can take some inspiration and step up your game on LinkedIn!


Building your network and brand awareness
Scottish Handball Association
This is an excellent example of content that perhaps may not be ideal for Facebook or Instagram but is perfect for LinkedIn. Funding is very topical at the moment due to the pandemic. Sharing this announcement by UK Sport on LinkedIn in particular is a great way to let their network know and generate good engagement around this news. Positive news such as this is the type of information people also like to share with others, and you are therefore going to reach more people. Importantly, it gives you the opportunity on the back of this to reach out and engage with those who have shown their support via a Like or Comment.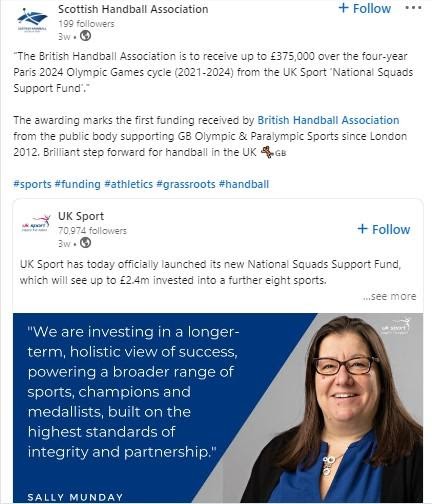 Demonstrating and delivering value
Partick Thistle Football Club
The most common reasons people follow brands/businesses on social media is to receive the latest product/service information and to hear about promotions and offers. Here's a great example of Partick Thistle Football Club announcing a new partnership with Spartan Protein as "the club's official nutrition partner for the remainder of the season". They are not only announcing the partnership but offering a 20% discount code that can be used on the Spartan Protein range, with 1% of the purchase being donated to the Partick Thistle Charitable Trust. This announcement is not only a great way to welcome this sponsor on board but also demonstrates to other potential sponsors and partners how the club can help promote their product or service.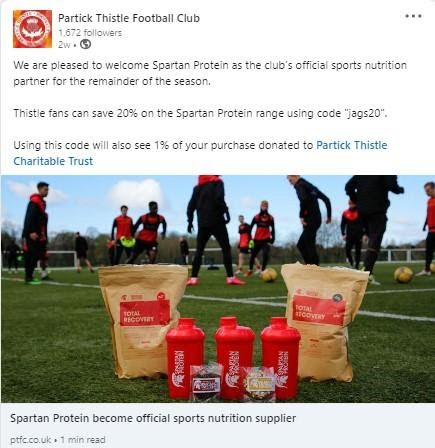 Facilitating Business connections in your network
Edinburgh Rugby
Exclusive Q&A's, such as this one by Edinburgh Rugby, are a chance to build relationships, listen and engage with your network, and have a more personable approach as opposed to a business meeting or networking event. Making the Q&A exclusively for sponsors, partners, and business club members is an excellent way to reward people for being on board and LinkedIn is the perfect platform for promoting it. Making people feel special is what helps guarantee continued support. Sessions like this also allow for your network to get to know one another and more opportunities could arise from this. Clubs at all levels can facilitate business connections through their network and LinkedIn is a great tool for helping them to promote this fact.