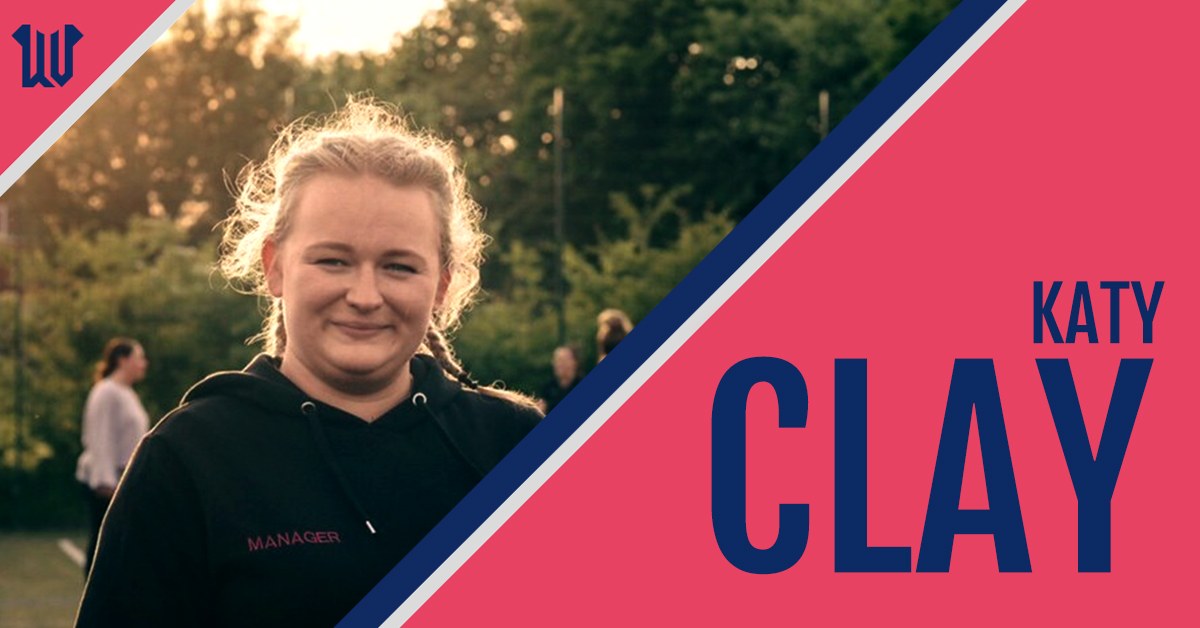 Worsley Wanderers are a women's amateur football club based in Manchester. Armed with their slogan 'never apologise for trying your best' and a logo with a nod to the #MeToo movement, their message of inclusivity and positivity has seen them go from strength to strength in what has been a difficult year. I caught up with the founder of the team, Katy Clay…


How did Worsley Wanderers begin?
I set up the team with the idea of creating a chilled and inclusive space for women to play football. In our area, there's nothing for people who want to play for fun. It's really competitive, cliquey, and quite dog eat dog. When I lived in London, I played for a team called Lush Lyfe and I wanted to replicate what they created when I moved back to Manchester. There was nothing like it in Manchester. I just texted a few of my friends and we started practicing on the tennis courts in our local park because it was raining every week and none of us had proper studs! A couple of the girls brought their boyfriends, and they were giving us some proper training and coaching and then we got somewhere more suitable to train. That's when we entered our local 5-a-side league and started doing 11-a-side friendlies as well. We enter ourselves into everything we can now!
What we offer is low commitment. I wanted to get women that have never played or even watched football to come and have a go and enjoy themselves. And that's what we've managed to achieve. I'd say about 80% of the people we've got had never even kicked a ball before training with us. They've all come so far. Some of them are even quite ballsy on the pitch now! Elbowing and tackling people when 10 months ago they would scream if the ball came near them – it's brilliant.
How quickly have Worsley Wanderers grown?
Initially there were around 10 of us who just met up at the park, mainly old school friends. After our first session a few more people came, then a few more, and so on. Now we are at about 25 to 30 people, our youngest at one point was 16 and our oldest is 54! We want people to come as they are, whatever you want it to be, it's a supportive environment. There's no shouting or telling each other off. All my team are amazing, and I tell them that constantly.
There's a massive gap in the market for a team like ours. In women's football, there's no in-between, you've either been playing it from a really young age and it's your life or you don't play it at all. There's no casual football. There's another team called Manchester Laces who are a recreational team like us, and we've been in touch with more teams, and I hope there are more in the future.
I'd love to get a recreational league going that has a stress-free environment and is just about having fun and a bit of a laugh.


Your logo has a nod to the #MeToo movement, was it important for you to have such strong symbolism to help convey the message of the team?
We knew we wanted something that represented feminism. We wanted to show that we were creating a safe space for women, ran by women. Our coach Will is male, he's amazing, but apart from that it's all women. When we take pictures, we can make the peace signs look like a W, so it's a bit of fun and gives us all a pose to do for photos. And we have a crown on there as well because, of course, we are all queens!


What's your motivation? Is there someone who inspires you?
As I mentioned, I used to play for a team in London called Lush Lyfe. Before playing with them I had never played football before, but I loved it. My Grandad is an ex-Manchester City player, my family are football mad, and I go to Man City games all the time. I've always struggled with being quite unfit, and I've never really been able to get into playing football. In the past I would've loved to. At university, I would go and watch the football team, but to play you had to go to a trial, and that wasn't really my style. I just wanted to learn to play. When I moved to London, a friend told me about Lush Lyfe and encouraged me to go along with her and assured me that no one would care that I couldn't kick a ball. I absolutely loved it, being able to play football every week. I couldn't believe I hadn't been doing it before! Lush Lyfe FC is run by two sisters from Newcastle, Aisling and Molly, and I ended up on the committee and doing the treasury for them. When I moved back to Manchester, I thought 'I can't not have Lush Lyfe in my life'. I needed it. And that's how Worsley Wanderers was born. I took what I learnt from my time in London and applied it here in Manchester and put my own twist on it. I ask the girls and my mum for advice, but I mostly run it on my own. But it is all worth it because the girls just love it.

Worsley Wanderers actively promote inclusivity and welcome members of the trans and non-binary community. Why is inclusivity important to you?
Lush Lyfe were always welcoming to trans and non-binary people. Manchester is a bit less liberal than London. In my team I want to make everyone feel like they're welcome. Come as you are, all walks of life are welcome. I was speaking to Helen from Manchester Laces recently and we were talking about a league that's coming up in September, but it is ran by the FA. I asked Helen if she had been contacted about signing the team up. Manchester Laces are also inclusive of trans and non-binary people and have people from these communities on their team, and because of this they cannot sign up for the league as they would have to submit hormone readings. So, they cannot participate. There are talks about going back to the board and seeing what can be done about it.
We currently don't have any trans or non-binary people on the team, but I want them to know they are welcome. But I also want to be able to take my team to new leagues and events like this, but if I do, am I cutting off a full community of people? It's extremely difficult, but hopefully we can help Manchester Laces get something sorted.

What's in store for the future at Worsley Wanderers?
We only had one goal this year. To win our first match. And we did! In two weeks, I'm hosting a first birthday party for the club to celebrate how far we've come. It will be an outdoor social with a presentation, and a few of the girls are going to perform some live music and have a wonderful time. Ideally, we want to travel to London and take part in a tournament down there. I would also love to set up a friendly between Lush Lyfe and Worsley Wanderers for old times sake! We just want to get involved in everything we can because we love it.
You can support Worsley Wanderers on their social media: Instagram: @worsleywanderers.wfc
And check out their new Kitvendr store: Worsley Wanderers