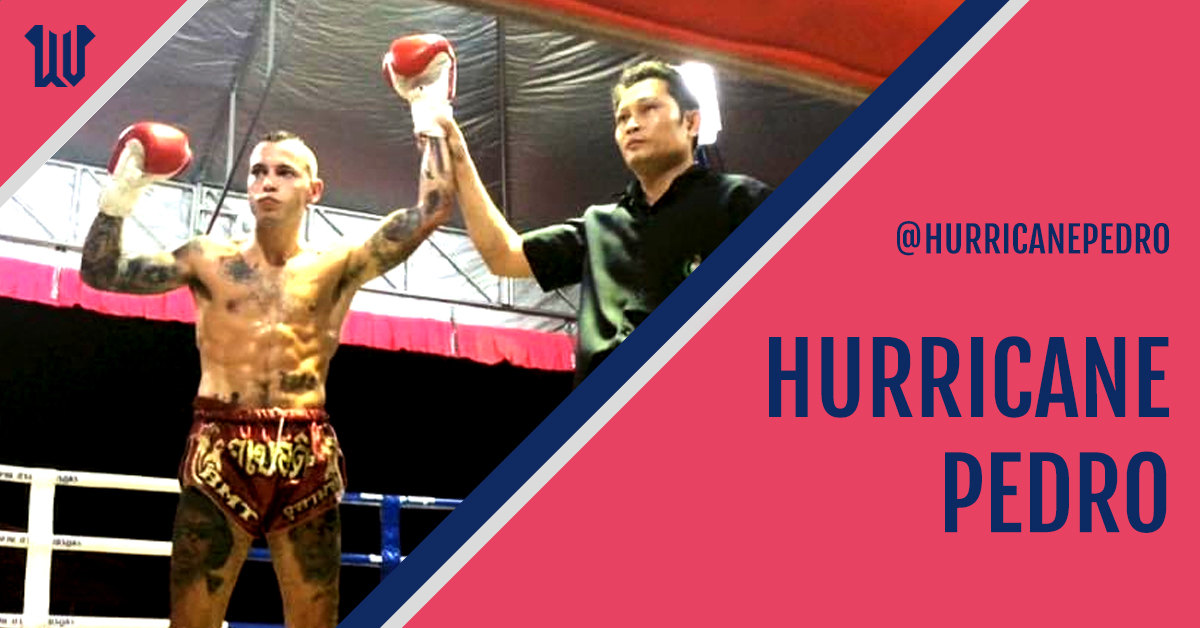 We caught up with Muay Thai fighter and coach Pete Scott aka Hurricane Pedro. Talking about his career, living, and training in Thailand, and how the sport is growing in Scotland.
How did you get into Muay Thai?
I first started Muay Thai back in 2010. Before that I had played football all my life and have always been active. When I was 16, I dislocated my right knee. From then on, I've always had problems with my knees, so playing football wasn't going to be sustainable. When I stopped playing football, I started drinking quite a bit, and then with no exercise I was worried that I would gain weight so decided to take up some sort of new sport. My friend Keith Middleton had been doing Muay Thai for a while and had already had a few fights at this point. I went to watch him fight and thought he must be mad to get in the ring in front of so many people and fight. I talked to him about it and he invited me along to training. It was only supposed to be about fitness and I never planned to compete....
Tell us about your journey to becoming a professional fighter.
After I went along to training back in 2010, straight away I loved it. I would train 2 or 3 times a week, but then I was still going out and partying at weekends. I noticed that on Friday in the gym I was feeling good and by Monday I'd be feeling rubbish again. It was becoming a vicious cycle. As the weeks went by, I started training more and drinking less. As I got better, I started sparring with Keith, other fighters, and more experienced guys. Eventually Keith said to me that I should give fighting a go, just to see how I got on. So, I thought to myself, why not? With only 7 months of training, I had an interclub fight. This is a sort of like amateur fight or a hard spar with a crowd there and a referee. I fought someone 7 kilograms heavier than me and beat him. The month after that, I had my first proper fight and won by KO. The month after that I had my second fight and won by KO again. I went on to win 4 fights in a row all by KO. After 2 years of training and 6 fights, I took some time off and didn't fight again for 2 years.
How long did you spend in Thailand and how was that experience?
I first went to Thailand in 2013 whilst travelling. I totally fell in love with Thailand and decided I wanted to live there for a while. I was travelling for around a year and found myself drinking a lot, and only training occasionally. I went back from Thailand in 2014 and managed to land a job working offshore on a 3-week rotation and spent most of my time off in Thailand. I had a few fights during my time off from the rig, but 3 weeks at a time in Thailand wasn't enough for me, and I was doing far too much travelling. So, after a year and a half of working offshore, I'd managed to save up quite a bit of money and decided to quit offshore and move to Thailand for the foreseeable future. I ended up being out there for the next 3 years so all in all spent most of my time from 2013-2018 in Thailand.
Where did you get the name Hurricane Pedro?
I was working in Houston in 2012 for 4 months, and during that time there were a lot of hurricanes over there. I was working with people from both America and Mexico, and they all agreed that I looked Mexican, and so they nicknamed me Pedro. Tied with the fact that I was a fighter, the nickname somehow developed into Hurricane Pedro. I personally didn't use the nickname when I was fighting, but I used to for my social media, and it somehow caught on. I thought it was funny, so I kept it going.
What was it like adjusting to life back in Scotland with your new family?
When we lived in Thailand, we came back to Scotland for a 3-week holiday in April 2017, and my wife and son loved it. We went back to Thailand for another 7 months and then moved back to Scotland. That's when I started working at Aberdeen Combat Centre. I'm delighted that I was given the opportunity to work in the gym from Chris Farman, who owns the gym, and is a lifelong friend. He's helped me a lot since we moved back and I'm very grateful for that. Since we moved back my wife had our second child in November 2019. Two young kids and working full time in the gym certainly keeps me busy!
You mentioned Aberdeen Fitness and Combat Centre – tell us a bit about the centre and what you do?
Aberdeen Combat Centre is a martial arts gym with the North East's biggest fight team including Muay Thai, MMA, and Brazilian jiu jitsu. We've got guys competing all over the UK, Europe, and world. The gym itself has got everything you need whether you're a fighter, a compete beginner, or just interested in fitness. There's not another gym in the north east of Scotland that compares. I teach Muay Thai and boxing there and I'm kept busy with that.
When I first came back from Thailand I decided to keep fighting and had 3 fights when I came back, winning the Scottish title and number 1 ranking in the country. Unfortunately, I haven't fought since 2018, and have just been concentrating on coaching. But just recently I have started back training myself 6 days a week. I'm feeling good and we'll see what happens once the fights start back up again.
What has your experience of coaching been like? Is there a certain group of people you enjoy coaching the most?
I've loved every minute of coaching. The people I've met and friends I've made has been unreal. What's great about it is that everyone can train Muay Thai, all ages and genders. Me being a fighter, I love to train people who tell me they want to fight. I can teach them everything that I've been taught in the 11 years I've been involved in the sport. Getting people ready for fights, and then standing in their corner during their fights is great. It's just as much a buzz as fighting yourself. I love to train all my regulars who train with me every week, and I am very grateful that people come to me to train and that I can help them and make a difference.
Do you think Muay Thai is growing in Scotland – if so, why do you think that is?
Yes definitely. I have seen it grow a lot in the time since I started. When I first started there was hardly anyone in Aberdeen who was at a high level. Keith and I, and a couple others, used to travel down to Leeds to train with some of the high-level fighters down there. We went down to Leeds quite often, and it was amazing getting to train with world champions and learning from the best. Nowadays there is a few of us up here in Aberdeen that have been ranked amongst the top fighters in the UK in our weight categories. For people beginning now, they have the chance to progress much quicker than we did back when I started. There is also Muay Thai shows somewhere in the UK every weekend now, before COVID that is. So, for people wanting to fight and get their names out there, there's plenty of chances for that.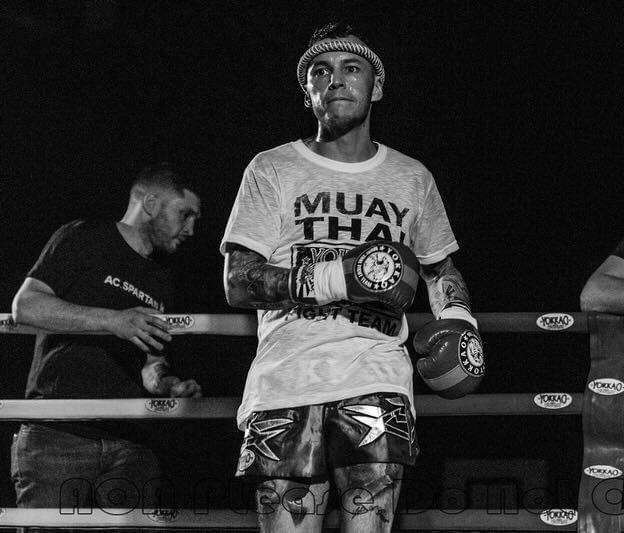 What values does Muay Thai teach people?
Muay Thai teaches you lots of things. It teaches you how to fight, how to look after yourself, and discipline. For example, when I was in Thailand, all the kids who done Muay Thai were all lovely, humble, nice mannered kids who respected their elders. There were a lot of other kids that were drinking or taking drugs, it kept kids off the streets and focused. Muay Thai teaches you that the human body can be pushed very far and further than you would ever imagine was possible. But, no matter how good you get, or you think you are... there will always be someone bigger or better than you. Therefore, you must remain humble and respectful.
How do you feel about the impact that COVID has had on the gym/fitness sector? Do you think it's important to get gyms back open as soon as possible?
I think Covid-19 has had a really negative effect on the gyms and fitness sectors. I won't go into too much detail as it has angered me a lot. Many gym owners I know have had to close their doors for good after being opened for many years. It's hard to see. I haven't been able to work properly for the best part of a year now. Luckily, I have been training people outside and will continue to do so until the gyms are reopened. The only plus side that I can think of is that hopefully this makes everyone hungrier to get back training and fighting and it helps accelerate the sport even further in the future.
You can support Hurricane Pedro by following him on social media:
Instagram: @hurricanepedro
You can visit his store at hurricanepedro.kitvendr.com