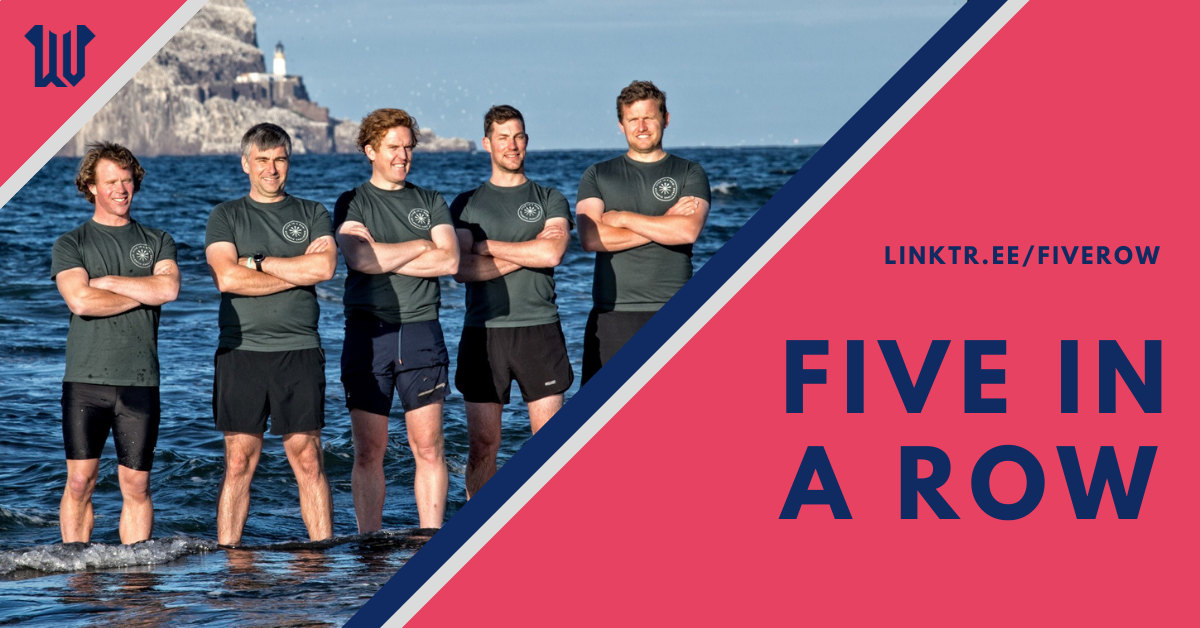 Five in a Row is comprised of Ian Baird, Ross McKinney, Duncan Hughes, Fraser Potter, and Clive Rooney. As a crew they are taking on the Talisker Whisky Atlantic Challenge for the charity Reverse Rett. I caught up with Duncan and Fraser over Zoom for a chat!
So, how did Five in a Row begin?
Fraser: It started as most things do, over a few pints in the pub. I was catching up with Ian and he is a part of North Berwick Rowing Club, so I mentioned that I was thinking about assembling a crew for the Talisker Atlantic Challenge. Ian said he had thought about it as well, but not made any solid plans. Ian then went back to North Berwick and spoke to Duncan and got him on board. Clive initially turned us down due to other commitments, but when we officially signed up, he had the fear of missing out and joined the crew! Then we twisted Ross' arm about it, and that was the crew complete.
Explain a bit about the Atlantic Challenge, why did it appeal to you?
Duncan: It's 3000 miles in around 40 days. We start from La Gomera in the Canary Islands and row to Antigua. The idea is that you have the trade winds, which go from Africa to the Caribbean, and you can pick those up. If not, it could take up to 50 days. We all have our own reasons for wanting to do it. Mainly, the massive physical and psychological test is something we have all been looking to do. Four of us are keen rowers, when we race it usually lasts about 12 minutes, this race could be over 40 days, so it's a huge change in mindset. None of us have ever done anything like this, so it's going to be extremely challenging.
Fraser, you have never rowed before. What has pushed you to do this?
Fraser: I've still never actually set foot in a rowing boat, hopefully in the Springtime, COVID-permitting. I've never been someone to do things by halves, I always like a challenge. I've been wanting to do this for a long time, I've represented Scotland in several different sporting events. I work really hard and I felt like this was a good time for me to focus on something personal that I want to do.
You are doing this for the charity Reverse Rett, for those who don't know, what is Rett Syndrome?
Duncan: Rett Syndrome is a rare neurological disorder which predominantly affects young girls from about 18 months onwards. Most people with Rett Syndrome are unable to speak, walk or use their hands. Research has shown that people with Rett do not have brain damage. They know and understand much more than their bodies allow them to show – but they are locked in, trapped by a body that cannot obey signals from their brain. Ross' nine-year-old daughter, Eliza, has Rett Syndrome. I have twin boys the same age as her, it was heart-breaking to see them all reaching milestones together, and then for Eliza to start missing them. Eliza is a lovely and bright girl; we are proud to be helping her and others with Rett Syndrome. Reverse Rett is a small charity who have been very supportive of Ross' family since Eliza's diagnosis. The charity has a focus on finding a cure, so our aim is to raise money and awareness for them through the Atlantic Challenge.
Canary Islands to Antigua sounds great! What will the conditions really be like for you guys?
Duncan: The crossing will be hot, probably around 30 degrees during the day. It'll be very windy, and we'll be constantly exposed. The cabins we sleep in will get very stuffy; I imagine. The sea conditions will be anything from flat calm to big waves, so that's something we will have to adjust to constantly. And we're all pasty, so plenty of sun cream!
Fraser: We would actually like it if the conditions were rougher as we can increase our boat speed by surfing the swell. If it all go's in the right direction it can be helpful. We will very much be at the mercy of the sea.
With the race being in December – how do your families feel about you being away for the festive period?
Fraser: I'm not quite as affected by this as the rest of the guys, but from what they've told me they've had to do a lot of negotiating with their families!
Duncan: I've got three kids all primary school age. I totally underestimated how they would feel about it. My kids were initially worried about the whole thing but after watching a few videos and following the 2020 race they now think it's pretty cool. It just means Christmas will be a little bit different this year, both for us and our families. As a Dad it is a selfish thing to be doing, but putting together a fundraising campaign for such a good wee charity and showing our kids that you can achieve something pretty extraordinary if you really put your mind to it are both huge motivating factors for our crew.
How can people support you in your efforts?
Duncan: Following us on our social media, any size of donation, buying from our Kitvendr store. Anything at all is greatly appreciated. We have a lot more info on our website too.
Fraser: We have a GoFundMe set up as well for any donations. We have different tiers of corporate sponsorship as well. There are a few different avenues for anyone looking to support us.
You can help support Five in a Row by following them on social media:
Instagram: @five.row
Website: fiveinarow.co.uk
GoFundMe: uk.gofundme.com/f/five-in-a-row-reverse-rett
Kitvendr Store: fiveinarow.kitvendr.com