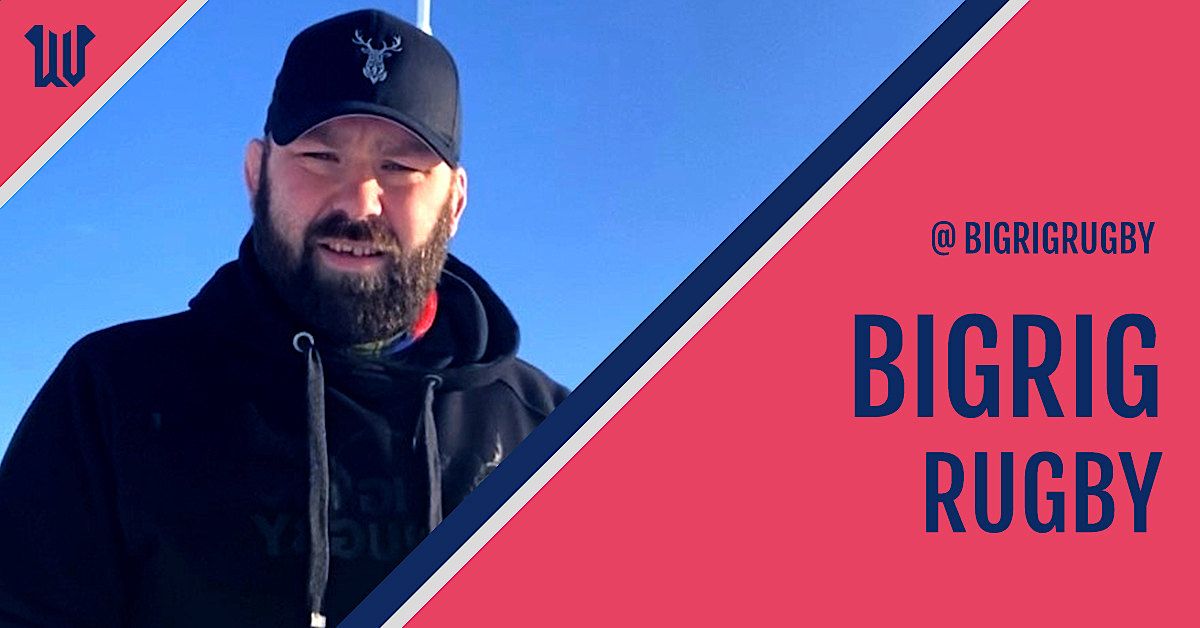 Stuart Corsar is an ex pro Rugby player, and has played for Glasgow Warriors, Rotherham Titans, and Doncaster Knights. He has been coaching for over 17 years and set up Big Rig Rugby in 2018 to develop coaches and players in the North East of Scotland. We caught up over Zoom for a chat!
How did you get into rugby?
I started when I was about 10 or 11. My headteacher at primary school was a rugby coach and referee, he was always keen for his pupils to try every sport. We were very lucky to have played football, basketball, tennis, and then blocks of touch rugby. A few of us really enjoyed it so my headteacher directed us to the local rugby club
What were some of the highlights of your professional career?
I've been lucky. When I was in the u20s squad, I won Player of the Year. That same year I won the William Purves Trophy, awarded to players who show the spirit of rugby, which I got to go and collect in London. After that I done a few tours with the Scotland A Team in Romania, Canada, USA, and Ireland. A memorable moment for me was scoring a try against Leinster when I was playing for Glasgow Warriors. I still get messages about it! I really enjoyed playing for Rotherham. It was a great club, amazing clubhouse and fans, proper old shed style. I was lucky enough to win a few awards there as well. It's a great feeling being recognised by the fans and by your peers.
You retired due to concussion. What was your experience of it like? And are you happy that continued head trauma is becoming a much wider discussion within sport?
When I was playing professionally, my knowledge of concussion was poor. I had quite a few bad knocks, but I just wanted to play, and I would just shake it off and lie about how bad my symptoms were. I ended up in hospital getting tests as I was experiencing nausea, sickness, poor memory, and slurred speech. Even with that, I continued to play and got another severe concussion and lost quite a bit of time. I was in a bad way with it for about 2 years. That coincided with my retirement, so it was a tough time for me. I'm happy that coaches and players are being educated to recognise concussion, no matter what the sport. Players must be honest. Had I known the symptoms I probably would've been more honest, but it's difficult for players on contracts, or trying to get one, because you need to play to make a career happen. Rugby will be a short part of your life. You can mend broken bones, but you need to keep your brain healthy.
Tell us about Big Rig Rugby and what inspired you to start it?
When I retired, I was still coaching. But I was relying on funds from the clubs themselves or Scottish Rugby. After several funding cuts, I started Big Rig Rugby so I could be more independent. It makes it easier for clubs, as they don't have to worry about hiring costs. They come to us with a budget and we can go in and deliver to the schools and set up programs to promote the clubs. We also educate coaches to allow them to deliver better content to their players and teaching them to play safer by preventing and recognising concussion. You recently started an Instagram Live series 'The Clubhouse'. Why did you start and what are your plans going forward with it? I started it to adapt to the current situation. It's easy just to hide behind closed doors. We need to keep talking to each other and helping each other out. I've got Ruaridh Jackson (ex Scotland International) coming on this week. I'm also interviewing my friend Mat Donald aka 'The Teuchter', who currently lives in Vietnam. He was an amateur boxer in his younger days, but at the age of 36, he has agreed to a charity fight with the WBA Asia super-middle weight champion Truong Dinh Hoang to raise money for Saigon Children's Charity. He's never fought professionally before, so I'm looking forward to getting him on.
You did some coaching in Rwanda in 2019 – how was that experience?
I went with a Welsh charity called Friends of Rwandan Rugby, Mary Watkins who set it up just received a British Empire Medal for her work. I went over to help coach the national team before their world cup qualifier against Ivory Coast. It was quite an emotional experience; a lot of the players were still suffering from the aftermath of the genocide. I was hoping to go back last year, but now aiming for the end of this year.
You currently coach Garioch Ladies RFC. What do you enjoy about it?
It's a completely different challenge from coaching men's teams. I think with women's rugby it still has a lot of the traditional aspects that the men's game has lost. It's very social and they look out for one another. I just turn up and coach! The ladies manage everything themselves and they want to learn.
We've just got a Girls team up and running as well. We also have a development side and a competitive team. Our competitive team are looking to break into the top league and get some of the players some caps for Scotland. However, we also want to keep the social aspect about the club and keep the girls that are looking to just enjoy rugby, to help promote the game in the North East.
You can support Big Rig Rugby by following him on social media:
Instagram: @bigrigrugby
You can visit his store at bigrigrugby.kitvendr.com