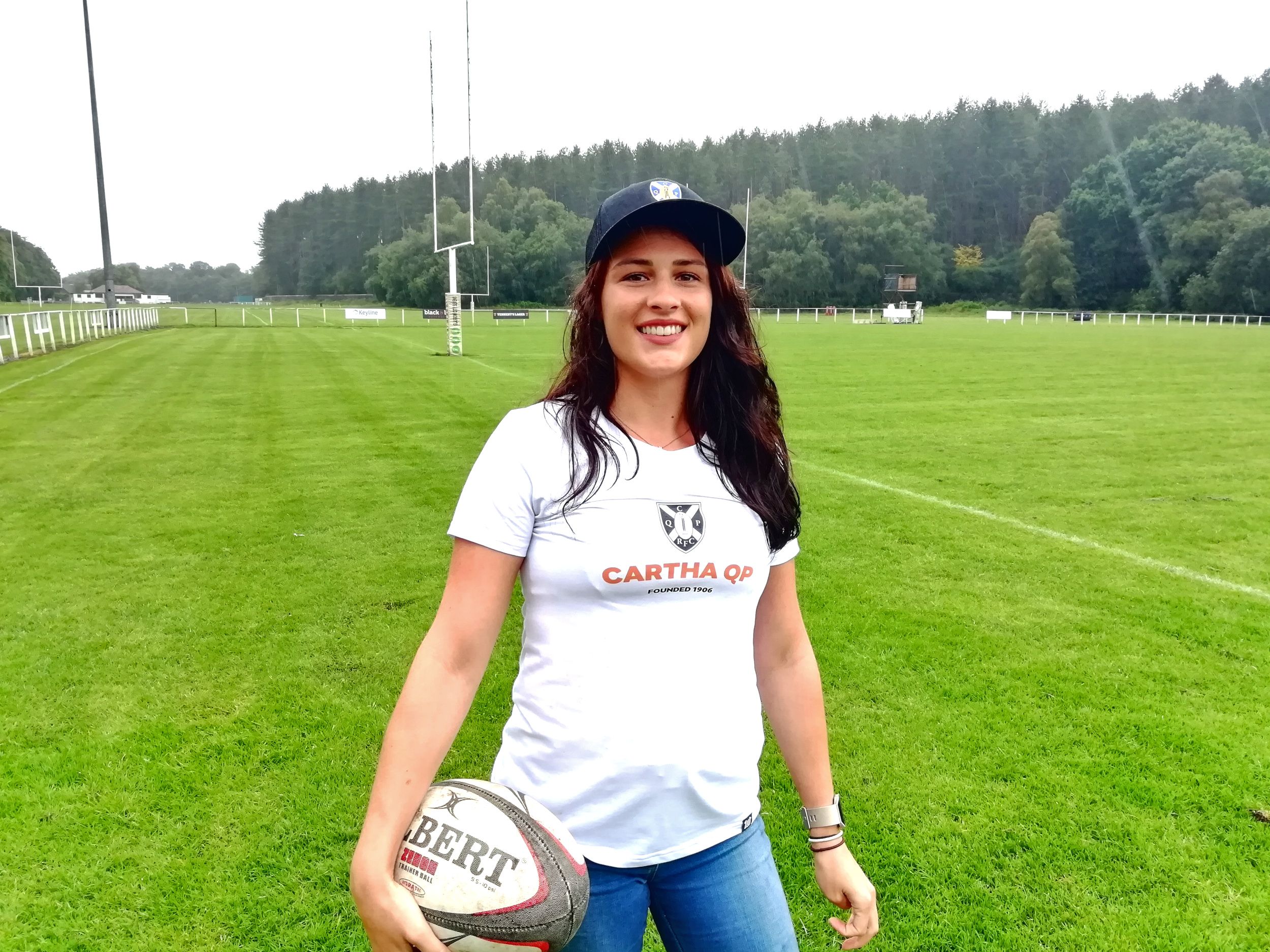 Every month we will be bringing you an exclusive interview with the players and volunteers who drive the community sports clubs and groups that we work with. Today we have the pleasure of interviewing Katie Murdoch from the Cartha Queens Park Women's Rugby team. Katie, who is a nurse by profession, plays for the Cartha Queen's Park senior Women's team and also volunteers her time as a coach with the Cartha Queen's Park girls rugby section.
What inspired you to play Rugby?
-I've always been interested in rugby, growing up with an older brother playing, and having friends who took part also. After competing in athletics as a youth, I wanted to play a team sport that encompassed various strengths in all players. I was lucky my high school had an associated women's team I could join after uni. Rugby has a role for anyone, and I love the inclusiveness of that.
What position do you play?
-I mainly play 15 or wing, I enjoy being able to see the whole game.
Who would you say is your main sporting role model?
-My main sporting role model is actually one of my fellow players, Christine Belisle. She has the hardest working ethic and is so positive. She is a coach as well as a player and I personally believe she lifts all up around her through educating and challenging them in a motivational way. Since she joined our team, her passion has really benefited our team to become stronger and more resilient.
Coach Christine's Facebook site
You've been playing rugby for 5 years, what's been your most memorable moment of your rugby career so far?
-Recently I helped organise our charity match against Ayr Women's Rugby in aid for MS. This was a huge success, with us raising nearly £2000. I felt so proud of the team as it is a cause close to our hearts as one of our players has MS, and seeing the stereotypical rugby community come together was fantastic.
Read more about the match here
What makes Cartha Queen's Park and Shawlands such a special club?
-When I first joined I was made to feel part of the family instantly. This club made Glasgow my home. We have a #oneclub ethos that we all abide by. I'd never have met so many people from different backgrounds if I wasn't here. I believe everyone has something to contribute to at Cartha Queen's Park and Shawlands, and the majority do. Last season we really saw the club promote the equality of women's sport, which was pretty cool, sometimes it's hard not to feel like an extension from the senior men's team in at rugby clubs. There is also great transparency across all coaching sections, allowing us to utilise skills and knowledge from many individuals. The majority of Cartha Queen's Park and Shawlands is run by volunteers, which I find commendable as really at the end of the day, we all want to play/watch rugby in a sociable environment.
What would you say to any girls or women thinking of taking up rugby?
-Do it. You can Google why play rugby, and get numerous articles explaining the benefits. But for me personally, you gain another family, and your body is tested mentally and physically. If it doesn't challenge you, it doesn't change you. It's also a lot of laughing and getting covered in mud, which is easy exercise and good for your skin, what's not to love?
Do you think there is enough media coverage of women's sport in general and if not what do you think could be done to fix this?
-With the Football there was great coverage from accessible providers. Which has benefited the sport greatly and was fantastic to see. However in other sports sometimes not. Having to follow a specific YouTube link or download a channel to watch an entire game doesn't allow for great coverage, and a 10 minute highlight reel during the tea break of the men's games isn't the same. If the game was treated equally as the men's, it would appeal to more and the quality of play and players would surely increase. I guess it's down to funding, but hopefully in the future, providers will be able to give equal coverage to women's and mens sports.
Cartha Queen's Park Women train 7pm Monday and Wednesday with a XV at Premiership and a Second XV in National 1. We welcome all abilities and all ages with our team ranging from 18 to 48. As a club we have 17 teams across all age groups, with sponsorship opportunities, and an annual beer and gin festival all can get involved. So come and join the #carthafamily.
You can purchase your Cartha QP merchandise from their KITVENDR store