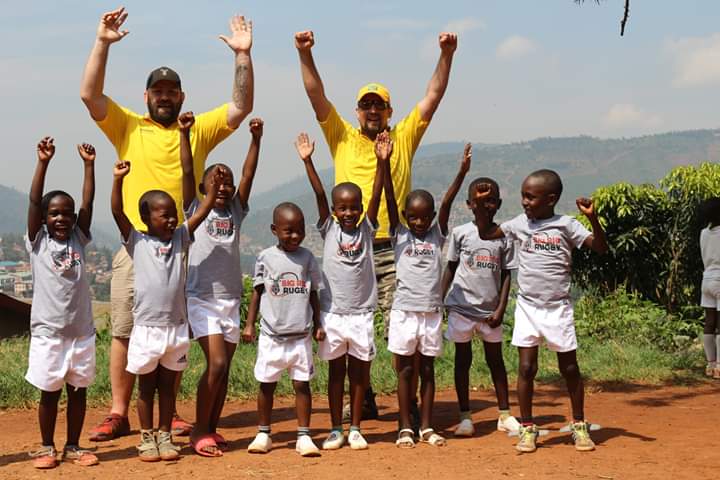 One of the organisations we have been privileged to work with in recent months is Big Rig Rugby who provide community and youth rugby coaching in the North East of Scotland. Their founder Stuart Corsar, who is a former professional rugby player, was recently invited to help with a charity programme in Rwanda. We are delighted to share Stuart's story of his trip and the wonderful work that he was part of.
Back in November I was fortunate to travel to the central African country of Rwanda with the Friends of Rwanda Rugby. The aim of the trip was to help to prepare their National Team for their upcoming 2023 World Cup Qualifier game with Ivory Coast.
Friends of Rwandan Rugby, also known as the abbreviated name FoRR, is a small innovative charity that teaches the ethos of rugby to both boys and girls promoting health and well being through sport and using rugby to help build trust, friendships and develop positive experiences. They have been successfully working with the Rwandan Rugby Federation for the past 15 years.
In recent years rugby has been seen as a key role to healing personal and societal wounds left by the conflict and upheaval of the devastating events of the Rwandan Genocide in the early 90s.
The important efforts by the FoRR are not just limited to raising funds and receiving kit donations. They also send coaches to Rwanda to work in local schools and fellowships as well as employing local players as Developmental Officers to promote rugby.
During this recent visit in November 2019 it was the first time that they were involved with the senior team and preparing them for any kind of match. There was also a lot of uncertainty as the Federation is not wealthy and their players are at an amateur level. It was also uncertain whether the players would take an unpaid week from their work to join the training and travel there at their own expense, many thought not.
After lengthy plans and preparations it was time for my travel to Rwanda. Departing from chilly Inverness airport in Northern Scotland and landing in London Heathrow at 08:00, I had the opportunity to meet more of the coaches that would be traveling onwards with us. We enjoyed a sociable drink together at Heathrow before departing on our overnight flight to central Africa. Arriving at 07:00 local time, we headed straight to handle some necessities like exchanging money for local currency and organising SIM cards before fueling up on a quick breakfast before heading towards the National Stadium and into the unknown.
Our training sessions were only roughly planned out and with the limited equipment on offer we kept everything simple yet functional. The basic skills were executed well. To our surprise the turnout was better than we could have imagined with over forty players from around the local area arriving for their opportunity to be selected for the trial week. It was a humbling experience to see the lengths that some went to, even taking the bus for seven hours at their own expense.
The television channel ITV were looking for footage for the Rugby World Cup finals so we assisted by giving some quick introductions and then got into some basic fitness tests, split as forwards and backs and looked at our 'rugby' shape.
The one thing that was apparent from all the players from the start was that they were extremely keen to learn. This was reflected in not only their actions but their questions too. With some of the players fluent in English they graciously assisted us in translating to help overcome the language barrier. They were on hand to explain and demonstrate what we, as Coaches, wanted from the players. Utilizing the final 30 minutes we put them to the test and played a trial game which showed their obvious enthusiasm.
The next 5 days were spent at the 1000 Hills Rugby Club putting the guys through their paces with two energetic training sessions a day built around working the core rugby skills and playing conditioned games. We made some great friendships with the players and we shared some stories and experiences, what was obvious was how they were very much looking into the future and not focused on the events of the past.
The rugby ground was surrounded by maize fields and in the vicinity of a local church. The area was a hive of activity and socialising where people would come to play sport, music and socialise. After training we would unwind ourselves by playing games with the local kids. They would be taking part in football, netball, basketball, boxing and karate all to the beat of a local traditional drum which was being played by the local groups. Their enthusiasm for life was infectious and we thoroughly enjoyed our time here.
During our time in the country we spent a morning up at the Rwandan Genocide museum to get more of an understanding of what happened during the harrowing events of the 1990's which has shaped the country. We listened to first hand accounts of the atrocities that happened and how neighbors were forced to turn on each other, people who should have been friends. There were photos of smiling children who gave a biography of their favourite things followed by how they were then killed. That was one room that I couldn't finish walking through. This was an emotional experience for all the coaches.
What shone through for me was the positive and forward thinking attitude of the Saviours, they had already experienced terrible atrocities that no one should endure but after all of this all they wanted was a sorry and then move forward. They knew that if they held grudges then the whole country would be in continuous conflict and turmoil, but their influence has now ensured that Rwanda is a nation who remember the past but do not want to repeat it.
On the last day in Rwanda we had the tough decision of selecting a squad for the Silverbacks team, the team has been named after the famous mountain gorillas found in the Volcanoes National Park close by. For us it wasn't just selecting a squad, it was who would in turn play the coaches and reserve players! The selection was held at the National Stadium and we were well supported. A foundation that we had spent time visiting during our time here returned the gesture and had walked over 2 hours to come and support us! Witnessing seventy children dancing and cheering for the full 80 minute match for FoRR was a very heartwarming experience for us. The game performance was a blur due to the altitude challenges and unfit lungs but it was a good test for them and they were the successful winners with a result of 10-8.
After the match we, of course, stuck with the rugby tradition and headed to the local bar with all 40 players and bought them all a few rounds.
During the trip we all made friends and had soft spots for certain players, many of whom come from challenging backgrounds and had endured a tough upbringing but the positivity that radiates from them was very inspiring.
After spending time in Kilgali, the capital city of Rwanda, we were humbled as everyone we met in this bustling city wanted to help us - from the Moto drivers and food venders to the bar owners! It is a very clean city and I would certainly recommend it as a destination for anyone to go and visit.
Since returning home, a question I am often being asked is would I go back to Rwanda? The answer is yes! I would also love to travel further afield than just the city limits of Kigali and experience more of the beautiful country that treated us so well.
Of course I can't finish this post without expressing my huge thanks and gratitude to every single person who has donated both money and kit to the charity and also to both Ellon & Deeside rugby teams who donated strips. Lastly to Kitvendr who supply our kit shop who donated brand new Big Rig T-shirts. Your generosity is so appreciated and will make a huge difference!