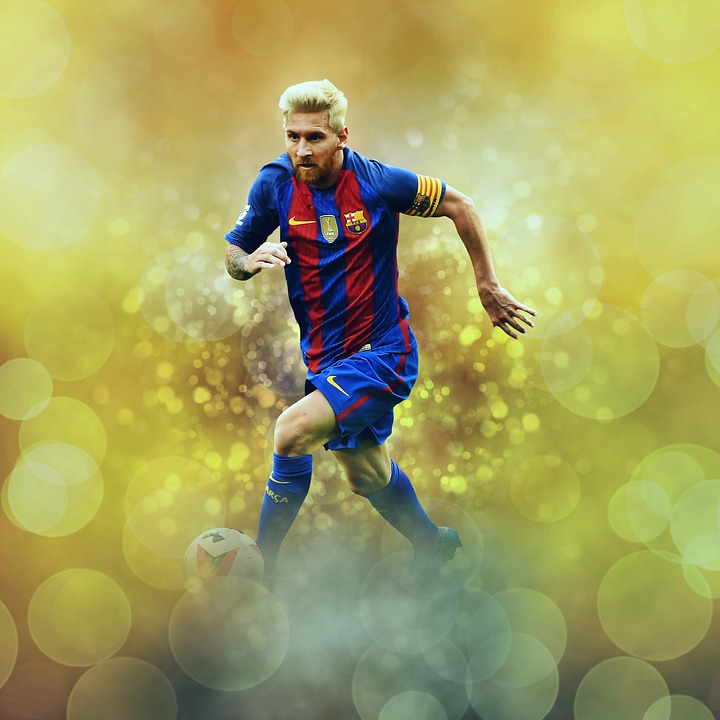 We love summer as much as the next person, but as sports fans we do like to see those long, bright nights start to close in a little. As we move towards August it can only mean one thing: football season is on its way back.
Here at Kitvendr HQ we're looking forward to an action-packed season – and our highly competitive fantasy football league. We hope that your own teams are shaping up well on your quest for virtual success.
As we trade and buy players for the season ahead, it got us thinking about how our products all have their own strengths and shine in different ways.
Just for a bit of fun, we've come up with our very own fantasy football team…based on the characteristics that players share with our products.
Who would be on your team? Reckon it could beat our one? We'll see you pitchside…
Lionel Messi, Barcelona – AKA The Beanie Hat
The diminutive Argentinian goal scorer – winner of three back-to-back World Player of the Year Awards – is best known for his agility. He doesn't have the flashiness of Ronaldo or the tricks of Depay: the pure simplicity of his football is his greatest strength, while his ability to create and score goals means that he's at the very core of any manager's strategy. Our beanie hats may be simple in their design, but they offer unparalleled style and quality.
Neymar, Paris Saint-Germain – AKA The Snapback Cap
Superior style that goes far beyond the brim: the wee Brazilian is a superlative match-up for this headgear. Neymar is renowned for being fast – incredibly fast – and some say that his speed on the pitch is down to the fact that his build is so slight. His physical stature even made some doubters question whether he'd be able to stand tall in the European game. But the forward is showing them all that he's here to stay – just like our lightweight and breathable snapbacks – with an all-round quality second to none.
Sir Alex Ferguson – AKA The Dad Cap
The dad cap is always going to be a winner – just like Sir Alex, who won 49 trophies in a legendary career at the helm of St Mirren, Aberdeen and Manchester United. There is quite simply no one we would rather have doffing the Dad Cap than Sir Alex, who was renowned for developing young players. You just need to look at how he took a team of young underachievers and moulded them into a force capable of stopping Liverpool's dominance in the early 90s. Without a father figure to guide them, Beckham, Scholes and Co may never have reached their full potential. Fergie had a no-nonsense approach to football and, just like this simple cap, is a true icon.
Cristiano Ronaldo, Juventus – AKA The Bobble Hat
His tricks and skills have made him one of the best players in the world…and just a little bit flashy. It's hard for the Juventus forward to go anywhere without standing out in the crowd. And let's face it, he didn't exactly fall out of the ugly tree with those model good looks. The bobble hat shares all the key skills and attributes of its cousin the beanie, but that little bit of je ne sais quoi makes it altogether sexier!
Harry Kane, Tottenham Hotspur – AKA The Scarf
Some would say there's not much to the England captain's game: long and lean, dependable and not showy. A bit like our scarves, Kane is all about function – he knows where to stand, and how to get into position for the best results. He's a versatile striker, scoring volleys, tap-ins and longshots; there's limitless possibilities as to how our scarves can be worn. And just like the holder of the 2018 World Cup Golden Boot award is an aerial threat due to his height, Kitvendr scarves look best held aloft while cheering on your team.
Johan Cruyff – AKA The Retro Trucker Cap
Considered one of the most influential players in history, the late Dutchman's playing style and approach to the beautiful game has influenced many players and managers, including the great Sir Alex Ferguson and Arsene Wenger, while some of the world's top clubs have developed training academies based on his coaching methods. There is no player better placed to take up position with the retro trucker hat than Cruyff. Timeless, a classic style statement, still relevant today – and will remain so for decades to come.
Mohamed Salah, Liverpool FC - AKA The Flexfit Wooly Combed
Wool is known to provide protection from all the elements and, come rain or shine, you can always depend on an outstanding display of football from Salah. Like wool, he's strong and a formidable force: well worth the club's £34.3m investment, he'll stand the test of time if he's looked after at Anfield. We're confident that this stylish and versatile cap will go on to make its mark in history like Salah, who netted a record breaking 32 goals for the Reds in the 2017/18 season.
Ole Gunner Solsjkaer, Manchester United – AKA The T-Shirt
When you're out on the field you're going to leave your t-shirt on the bench, and the Baby Faced Assassin can relate to that. In his time as a player at Old Trafford, the winger scored an incredible 28 goals off the bench and became known for snatching late winners. Just like our quality t-shirts, Solsjkaer was renowned for his flair and style – along with the greatest super sub strike of all time in the 1999 Champions League final. A staple of any apparel collection, you can rely on our t-shirts to perform when it counts.