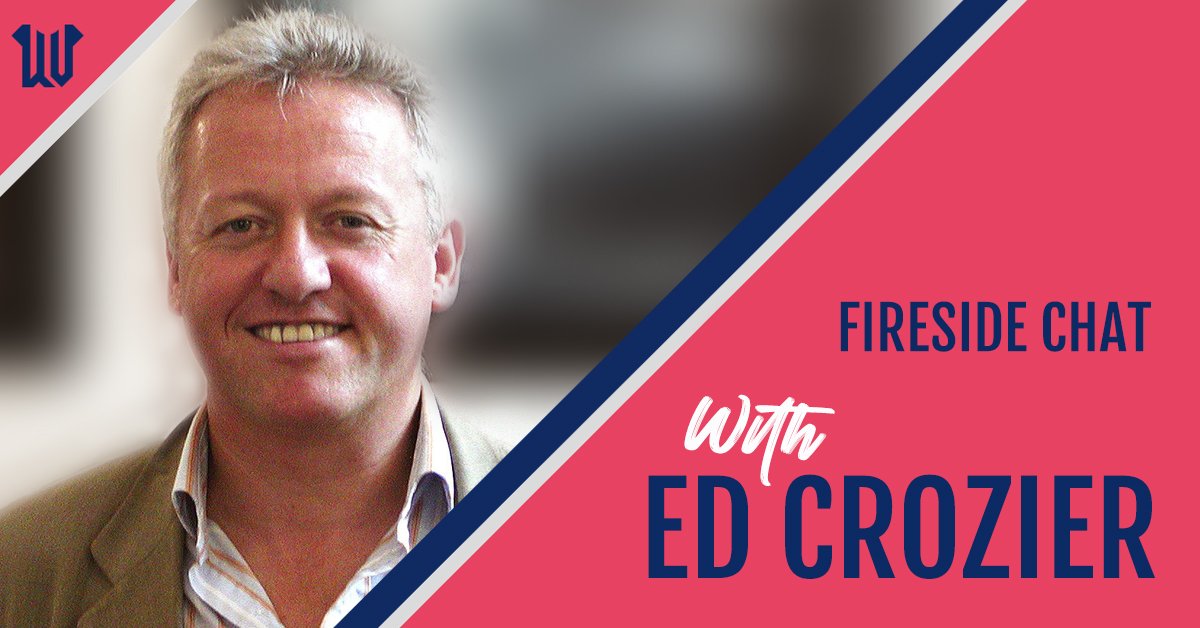 Ed Crozier is the current Chairman of Netball Scotland, former President of the Scottish Rugby Union and current President of Cartha QP RFC in Glasgow. Ed is a passionate supporter of grassroots sport and has had a distinguished career in Sports administration and also in the Arts. As much of the sports world tentatively begins to open up again, we sat down with Ed for a virtual Fireside chat to get his thoughts.
Who inspires you in the grassroots sport community?
Ian Barr and Colin Rigby, the president and vice president of Scottish Rugby, both inspire me greatly. They both come from a grassroots background and have taken what they have learned from there to the boardroom table. In terms of leadership, I am inspired by Sheila Begbie, who is the Director of Domestic Rugby at Scottish Rugby. It's still quite a male-dominated profession, but she brought her experience from Scottish Football and breathed new life into the role. Sheila deals with what is important, rather than the personalities, and has made a real difference.
Claire Nelson, the CEO of Netball Scotland, is another person I look up to. She's a dynamo, a leader. She enables people and wants to see everyone succeed and reach their potential. All the people I've mentioned have been human catalysts in different forms. They're all aiming to do the best that they can for the sport they're involved in.
Where does your passion for grassroots sport come from?
I used to play rugby for my school in Dumbarton and for Dumbarton Rugby Club, my teachers and coaches were amazing. I was also involved in athletics and was a county sprint champion. I was coached by some first-class coaches including called Jim McInnes, who went on to become President of the Scottish Amateur Athletics Association. I was also coached by Derek Parker when I was a senior, they were both inspirational figures in my life. They connected with the community and drove it home to us, in a subtle way, that without the success of grassroots, top tier sport would not be what it is. They remind me to be kind to the people, especially those that you may you pass by on the way up.
You were recently appointed the new Chair of Netball Scotland. What are some of your overall goals?
I want to update the governing body. Their setup is very similar to Scottish Rugby, in the sense that the members and clubs own the governing body, and they in turn feed into the overall success of the national and professional teams. I would like to where appropriate help the game grow on a club level, as that will inevitably improve the Scottish team and the professional teams. Strathclyde University are a great sponsor, who are focussing on the development of 18 to 25-year olds, and they tie in with our ambition to become the best professional team in the UK and to be the best governing body in sport. Claire Nelson is really driving this. We have a Board and staff that are all behind her, and there's no politics involved which I've found a breath of fresh air . Everyone just wants the sport to succeed, especially with the World Cup and Commonwealth Games coming up.
Prior to the pandemic, a survey showed that up to 1.6 million people in the UK were participating in Netball. Do you have an insight into why this is?
I believe it's the fastest growing women's participation sport in the world. Anyone can take part and at all age groups & levels. Though It has always been popular in Scotland, a few years ago the national team were around 12th in the world rankings. I think it really started to take off when England won gold at the commonwealth games against the favourites Australia. They won with the very last move of the game, I had never watched a lot of Netball before and I found myself staying up to watch it! I think that was a catalyst for people to think, 'Where can I play Netball?'. From that catalyst, Netball participation went up about 10%, the funding for the sport increased, and people were seeking out their local clubs. What people find is that Netball really is for anyone, as I mentioned regardless of age, size, gender, and ability. Netball can be played at the highest level, but you can also play it at walking pace, outdoor or indoor. What's different about Netball compared to other sport is that you could pick it up in your early 20s, and with the right drive and ambition, you could play at a high level. That's why I think it has seen the growth it has.
What will help grassroots clubs get back on their feet after the pandemic?
The sporting community, in general, have to start thinking outside the box. How can we make sport accessible? How can we get people back playing sport but still adhering to guidelines? It's important we get people back outside and engaging in physical activity. For example, in rugby, they need to be looking at the options of doing 5, 7 and 10 a side. We could look at similar initiative numbers playing Netball matches, court sizes as well as exploiting usage of outdoor courts. We will inevitably lose people playing sport because of the pandemic. If there's no marketing or point of reference for people, they won't feel encouraged to start or return to playing sport. We must take to take the lead and get people back into sport. Local Councils should too look at making prices affordable for it becomes accessible to everyone. Leading the Health and well being recovery of the nation.
Do more young people need to be more involved in the running of clubs? How do we get them involved?
Most clubs are amateur, and they are run on a voluntary basis, but I like to think of our volunteers as professional amateurs. People bring their day job skills to the table to help their clubs achieve their ambitions. I'm also the President of my local rugby Club Cartha Queens Park, and we have appointed a Director of Culture and Volunteers, Shabaz Khan, who is a Pakistan rugby international. Outside of Cartha, he is a Development Officer at Motorcycle Sport Scotland. He is using his experience from his job and bringing it into the running of a local club. All we need to do is ask people to do to is do one thing well as a contribution to the running of the club. That's all it takes. Young people sometimes get a bit ticked off when they volunteer to do one thing and end up doing 10! If we get new people in and ask them to do one thing well, once they get used to it, I think they'll find that they can handle a lot more and will want to offer their help and also encourage others to volunteer. I feel lucky with the volunteering network we have at Cartha, but it took a while to get to where we are. Some sporting clubs struggle due to the lack of members, but with the right encouragement and mentoring this can with positive effort be rectified & turned around .
You have had great success both in the arts and sports – is their similarities between them that have made it easier for you emulate your success?
Both sectors are very similar. I firmly believe culture and sport take the temperature of a country. If we are doing well at sport, getting awards on screen or on stage, it lifts people's moods. Live sport and live theatre are part of my DNA. Live sport and theatre inspire you. Even if it's just your kids playing rugby, or performing in a school play, you leave feeling inspired. It's an emotional response, and emotion is a huge part of sport and culture, and that's what makes them alike. We can be a bit rubbish at showing emotions in Scotland, but emotions are an outlet normally circumstance driven and there's nothing wrong with expressing your emotions, indeed it's a positive.
What are you most looking forward to when restrictions are lifted? Watching a sports match in person? Going for a pint?
Getting a haircut! A haircut is first on the list. Meeting friends and family and giving them a hug. Having a cold pint at my rugby club. And seeing a live performance, on a court, a pitch or a stage!
What is the proudest achievement of your career?
For my work in the creative industry, it would have to be producing 'The Big Picnic' in 1994 in the old engine room in Govan. We told the story of a Scottish regiment being sent into battle in WW1, and their ultimate demise. Huge, impressive sets, with Jimmy Logan starring and Bill Bryden directing, who had also written it. The last performance was on Armistice Day 1994, and we have veterans from Erskine attending and a sold-out show. I'll never forget it. In sport, being elected President of Scottish Rugby. Though two key people were missing my Dad and brother George. A memory that sticks out was when Glasgow Warriors beat Munster 31-12 in 2015. I was part of the initiative to get more people watching rugby in Glasgow, initially we were getting around 800, and by the end had 10,000 watching professional rugby. It was good to have so many people there for that win. Being able to see the stadium getting built at Scotstoun was another highlight for me. Now, being Chair of Netball Scotland is a big honour. I didn't think I would be this motivated again – especially in a sport new to me. I had been offered a few positions, but nothing excited me as much as this. It's a wonderful sport with wonderful people. There are huge expectations and ambition to match , but they are reality based & achievable .